Building a Long Board
I started off by building a template out of thin plywood. This was easier to work and perfect the shape on.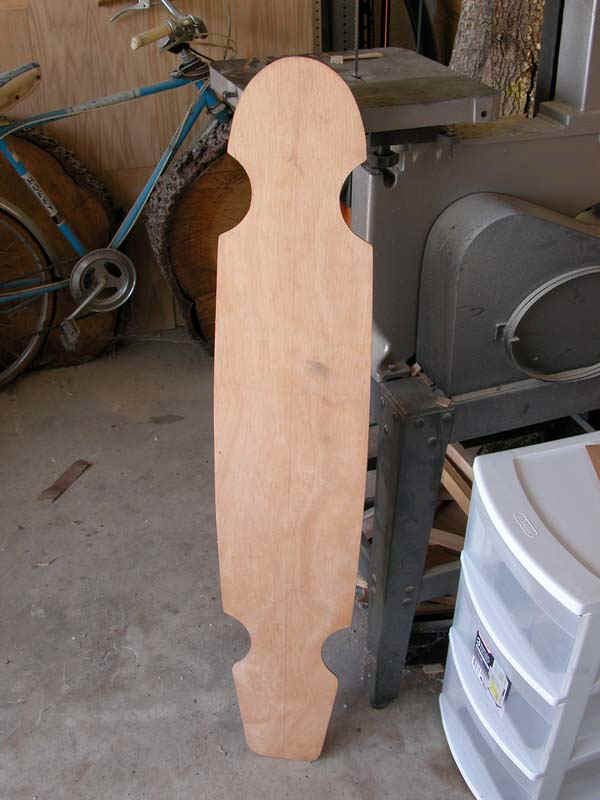 Here's a closeup of the template with some of the layout lines visible.
The template was traced onto the wood stock.
On the bandsaw, the outline is rough cut, staying about 1/8" outside the lines.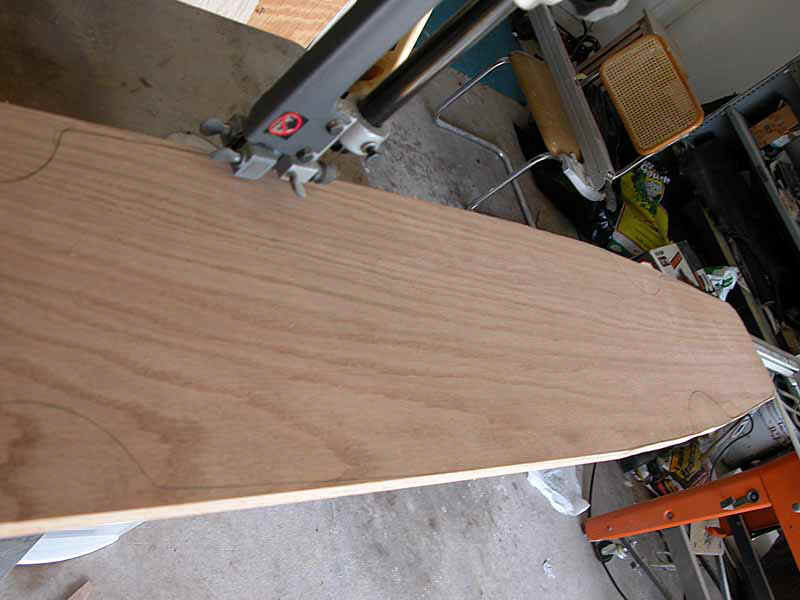 Doublesided tape and clamps were then used to attach the template to the board. The board overhung the template at all points.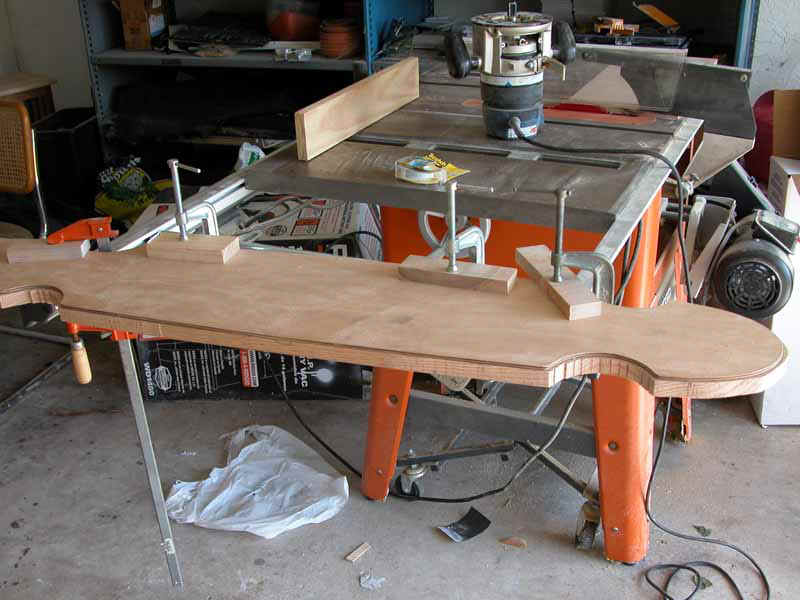 A router was then used to machine the board to exactly match the template.
To do the curved front and back, a wood sandwitch was glued up. The routier was used again to shape the edges.
A grinder was used to sculpt the curved ends. I kept the grander perpendicular to the grain so the grinding was always along the grain, and I kept it tipped up about 10-15 degrees. Once I got near your layout line, I made a point of always pulling the grinder towards myself. Pushing can easily dig in deeply into the wood. Also I switched from a 40 grit disk to 80 grit to get a smother surface and slow down the speed of wood removal. It took some practice to make fairly smoth curves. I made a prototype board out of cheap pine to learn the technique on.

I used a template for the back, but eyeballed the curve for the front. Once the convex curve was done and sanded smooth, I used a compass set at 3/4" to trace the convex edge to draw the line for the concave side. I did it in this order because the concave side is easier to do. I found that if too curved, I wound up fighting the curve of the grinding disk.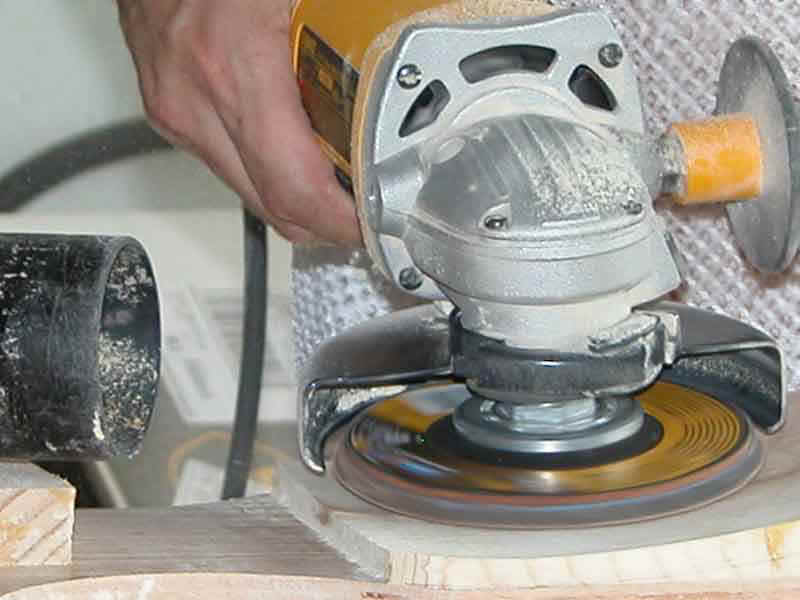 To sand the concave side, I stuffed some paper towels behind the sand paper so it followed the curve better.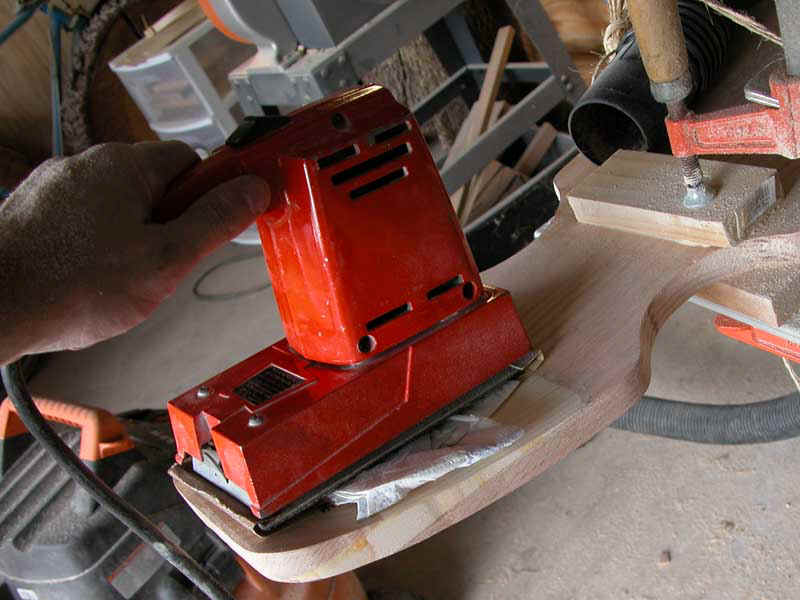 I used some risers as a template for drilling the holes. I taped some paper on the board so I could draw a center line without having to erase/sand it away later. I used a straight edge to keep the two risers lined up perfectly, and double side taped them down. I only started the holes with the risers in place. When I tried to drill all the way through, I would inevitably bump them. Also started the holes from the bottom side in case I was less than perpendicular with the drill bit, so at least the point where the screw meets the truck would be lined up. I used a old hand-crank drill so I could stop just as I was breaking through the top side. I then completed the holes from the top side to avoid tearout. i also beveled the sides of the holes with a counter-sink bit so the screws would be able to sit flat.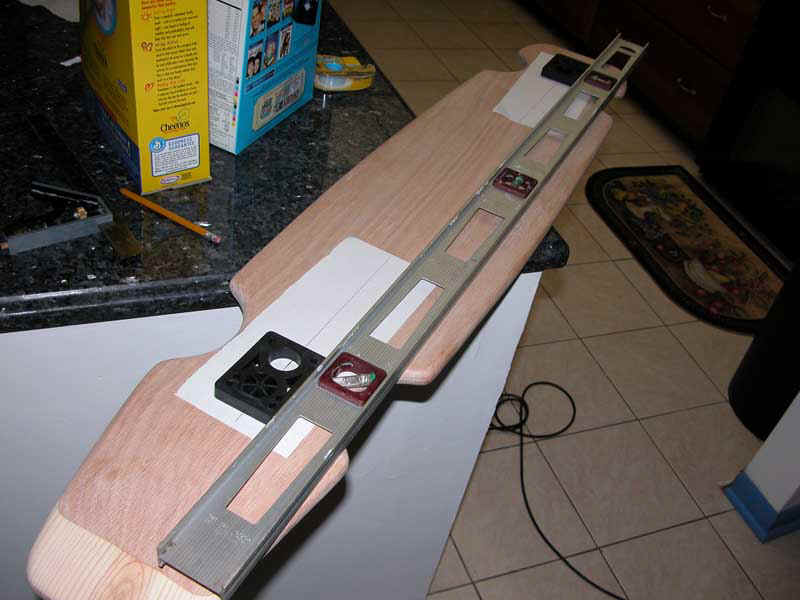 I hung it from the ceiling while I applie 5 coats of Tung Oil and about 15 of Polyurethane (I lost count)